Business Coaching Articles and Events
Events


San Francisco Professionals Presentation Training Group


Bay Area Professionals Presentation Training-Group


Silicon Valley Professionals Presentation Training Group



Articles

Sales and the Art of Persuasion - Understanding and Using the Seven Principles of Sales Negotiation: Principle #1. (PDF link)

New Book Offers Plan B for Individuals in a Difficult Economy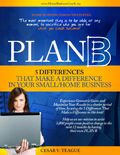 In a tough economy, people need a Plan B if they wish to stay afloat and prosper.

In a short but jam-packed new book, business coach Cesar Viana Teague teaches entrepreneurs the differences that will make the difference.

The "shape" of a business depends on many different components working together. By examining how to take a holistic approach to business, Cesar V. Teague helps entrepreneurs create long-lasting "geometric" results in his new book "Plan B: 5 Differences That Make a Difference in your Small/Home Business" (ISBN 9781465334787, Xlibris, 2011). Read more...

Please see our Advisory Team to learn more about our team members.
nancy@nextlevelup.org